The White House has appointed Joel C. Spangenberg as Selective Service System Deputy Director.
"The Selective Service System serves an important role in support of the Department of Defense and our national security.  The agency's employees, military reservists, and volunteers do outstanding work in carrying out its mission while proudly serving the American people. Serving alongside them as the agency's Chief of Staff during the Obama-Biden Administration is among the highlights of my career," Deputy Director Spangenberg said.

"I'm honored and excited to join the Biden-Harris Administration and have the opportunity to serve as Deputy Director of the Selective Service System. I look forward to the great things we can accomplish together as a team," Deputy Director Spangenberg continued.
Mr. Spangenberg, who is a U.S. Navy veteran and most recently served as the first-ever Executive Director of Operations for the Defense Nuclear Facilities Safety Board, has built a distinguished career in the federal government leading programs as an executive and communications strategist.
In addition to previously serving as Chief of Staff for the Selective Service System, Mr. Spangenberg served as Subcommittee Deputy Staff Director to former U.S. Senator Daniel K. Akaka, Chairman of the Subcommittee on Oversight of Government Management, Committee on Homeland Security and Governmental Affairs. He also served as the lead national and homeland security advisor for the subcommittee.
A U.S. Naval Academy graduate, Mr. Spangenberg served as a Navy Surface Warfare Officer (Nuclear) and was assigned to the destroyer USS Ross as the Anti-Submarine Warfare Officer and as a Reactor Electrical Division Officer aboard the aircraft carrier USS Abraham Lincoln. He earned master's degrees from the U.S. Naval War College in National Security and Strategic Studies, University of Oklahoma in Administrative Leadership, and Old Dominion University in Engineering Management.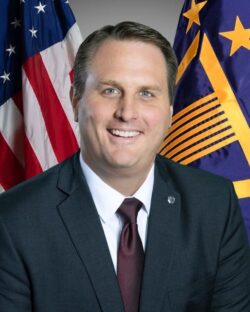 ###
Federal law requires all male citizens, as well as male non-citizens residing in the U.S., to register with Selective Service within 30 days of their 18th birthday. At 26, a man becomes too old to register. Those who do not comply are ineligible for numerous federally funded benefits, educational benefits, job training, government employment, and U.S. citizenship for male immigrants.
Selective Service seeks volunteers to serve on Selective Service Local Boards. Interested citizen-volunteers can submit an application available at www.sss.gov.
For more information about Registration or the Selective Service, please call the Public and Intergovernmental Affairs office at (703) 605-4100.