Today, retired Alabama Air National Guard Officer, Gary W. Kirk, was sworn in as the Selective Service System's Alabama State Director by Selective Service acting Director Joel C. Spangenberg. Alabama Governor Kay Ivey, who nominated Mr. Kirk for this position, participated in today's ceremony at the Alabama State Capitol in Montgomery.
Alabama Governor Ivey said, "Mr. Kirk has not only served our Nation for more than 30 years as a true patriot and hero, but he has stepped up and helped our great state of Alabama get though some difficult natural disasters to include Hurricane Ivan and numerous tornado outbreaks over the years. Thank you Gary and thank you Alabama Air National Guard for all that you do. The State of Alabama stands ready to support our homeland in times of national emergency and part of that commitment means partnering with the Selective Service."

Acting Director Spangenberg said, "Mr. Kirk dedicated nearly 34 years of military service to our Nation. He is an exceptional leader, recognized for his contributions to the Air National Guard and the Air Force in the areas of tactical and combat communications, cybersecurity, and information technology.  As our Alabama State Director, Mr. Kirk will lead efforts to strengthen Selective Service System readiness capabilities statewide in coordination with Alabama's state, county, and local officials."

"It is an honor and privilege to join the Selective Service System and continue serving our Nation in this important role. We do not know what the future may hold and it is vitally important that the Selective Service is ready to support the military personnel needs of our Nation in times of national emergency. As Alabama State Director I am committed to proactively working to ensure that we can fairly and rapidly mobilize operations across the state if called upon to do so," said Mr. Kirk.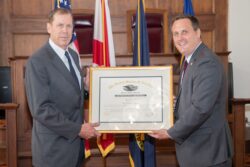 Mr. Kirk, who attained the rank of Colonel before retiring from the Alabama Air National Guard in 2019, held numerous leadership positions during his nearly 34 years of service, culminating with his ascension to Director of Cyberspace Operations in Montgomery, AL. He previously served as Adviser to the Air University Commander, as Commander of the of 226th Combat Communications Group and Commander of the 226th Combat Communications Squadron.
Mr. Kirk began his military career with the U.S. Air Force in 1986 with the 426th Tactical Fighter Squadron at Luke Air Force Base, AZ. Mr. Kirk is a life member of the National Guard Association of America, the Air and Space Forces Association, and the Veterans of Foreign Wars.
Mr. Kirk earned his Bachelor of Science Degree in Business Administration from Southeast Missouri State University and his master's degree from Golden Gate University in San Francisco, CA. In 2006, he earned a master's degree in strategic studies from the Air War College, located at Maxwell Air Force Base, AL. He lives with his wife Jeanine in Wetumpka, AL. They have two adult children: Andrew and Ryan.
###
Federal law requires all male citizens, as well as male non-citizens residing in the U.S., to register with Selective Service System within 30 days of their 18th birthday. At 26, a man becomes too old to register. Those who do not comply are ineligible for numerous benefits, including state-level student financial aid, federal job training and employment, and U.S. citizenship for male immigrants.
The Selective Service System seeks volunteers to serve on its Local Boards and as State Resource Volunteers. Interested citizen-volunteers can apply at sss.gov.