"The Selective Service registration represents an additional tier of support to our Nation's all-volunteer military in the event of a national emergency…"
Rosslyn, VA: U.S. Marine Corps veteran, Kenneth "Ken" W. Zebal was sworn in as Arizona State Director on September 14, 2022 by Selective Service System Region III Director Steve Kett. Mr. Zebal was nominated by Arizona Governor Doug Ducey.
"Having served in the U.S. Marine Corps, I appreciate and respect the sacrifices and commitment that young people who serve are making for our country. The Selective Service System enables our Nation to respond effectively to military personnel needs, should it be called upon to do so. It is an honor and privilege to serve as Arizona State Director and support this mission. I will ensure that we are fully coordinated with Arizona state officials in the event that we mobilize in response to a national emergency," Mr. Zebal said.
Mr. Zebal's military career included service in numerous command and staff positions. As a civilian, he was a support contractor in the aerospace industry.
Mr. Kett said, "Mr. Zebal is a decorated veteran who served his country with honor and distinction in the U.S. Marine Corps for more than 20 years. He brings a wealth of military and private sector experience to the Agency. We are fortunate to have him on our team. He's the right person for the job and will lead our efforts in Arizona to strengthen our readiness capabilities in coordination with State, county and local leaders."
Mr. Zebal earned his Master of Business Administration degree from United States International University in San Diego, CA and his Bachelor of Science degree from the University of San Diego. He currently resides in Tucson, AZ with his wife Liz.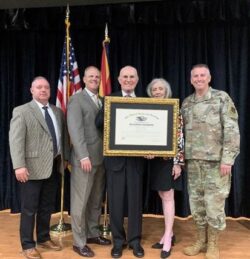 ###
Federal law requires all male citizens, as well as male non-citizens residing in the U.S., to register with Selective Service within 30 days of their 18th birthday. At 26, a man becomes too old to register. Those who do not comply are ineligible for numerous federally funded benefits, educational benefits, job training, government employment, and U.S. citizenship for male immigrants.
Selective Service seeks volunteers to serve on Selective Service Local Boards. Interested citizen-volunteers can apply at www.sss.gov.
For more information about Registration or the Selective Service, please call the Public and Intergovernmental Affairs office at (703) 605-4100.